Vanilla Chips - How to Prepare and Store Vanilla for Home Chocolate Making
Please note: vanilla chips are just a way to store vanilla seeds. If a recipe requires a vanilla chip, you can use 1/2 tsp vanilla seeds or water-free vanilla paste instead.
With my début cookbook, Chocolate Making Adventures, out next month, I've decided to start posting a few sample recipes online.
My first is how to prepare and store vanilla seeds, so that you don't have to keep scraping them from a pod every time you want to make chocolate.
You can add vanilla essence to chocolate, but it's very hit and miss. Sometimes it combines perfectly and at other times is causes the mixture to seize. This is because most vanilla essence uses water to carry the vanilla.
For chocolate makers, the best carrier for vanilla is cocoa butter. Storing vanilla for future use is particularly handy because every pod contains far too many seeds for one batch of chocolate. Vanilla chips can go in the cupboard and be brought out whenever you need a hit of vanilla.
You will need individual moulds. Any size or shape will do.
makes eight
INGREDIENTS
1 vanilla pod
5g cocoa butter
METHOD
1. Melt the cocoa butter in a bowl above boiling water.
2. Cut the vanilla pod lengthwise and scrape out the vanilla seeds with a sharp knife.
3. Add the vanilla seeds to the melted cocoa butter and stir well.
4. Allow to cool slightly then stir.
5. Pour into eight individual moulds.
6. Use as directed by your recipe. These are not for nibbling on!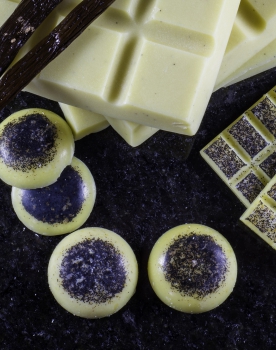 Vanilla chips are vanilla seeds encased in cocoa butter
+

Non-fiction by Rosen Trevithick

---
2 comments