Out Today - Chocolate Making Adventures
My debut cookbook Chocolate Making Adventures is out today.
From cocoa bean to mouth-watering treats...
Make your own chocolate at home.
Most recipes for homemade chocolate involve buying it from the shop then melting it. But what if it's actual chocolate itself that you want to make?
Thanks to the recent widespread availability of cocoa beans and cocoa butter, chocolate-making has never been easier. You can create it on an ordinary kitchen stove.
Learn to make different kinds of chocolate, then mould it into bars, sweets and even build with chocolate bricks, as you follow Rosen's quest to become a home chocolatier.
100 pages packed with recipes and tips by chocolate enthusiast Rosen Trevithick and featuring beautiful photographs by Claire Wilson of Live, Life, Explore.
This week, I will be making a series of guest appearances on people's blogs, kicking off with Why Make Your Own Chocolate? at Michael Brookes' blog, The Cult of Me.
Next I visit Kath Middleton - Books, where I describe how I developed the recipes, after finding myself unable to replicate the milk and white chocolate recipes I found online.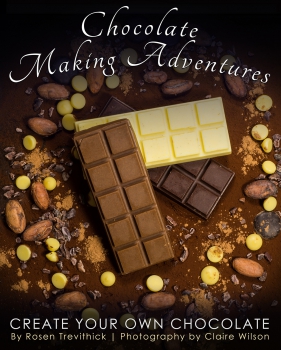 The cover of Chocolate Making Adventures
+

Non-fiction by Rosen Trevithick

Be the first to comment