How to Create Your Own Chocolate Making Hamper
Would you like to give somebody the gift of making their own chocolate? Or perhaps you'd like to make a really attractive prize for a raffle?
Collecting together all the things you need to make chocolate, and presenting them in a hamper, makes the idea gift for a chocoholic or anybody who loves making their own treats.
Below, I talk you through creating a chocolate making hamper.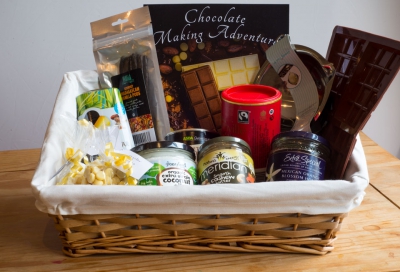 An example chocolate making hamper
Decide Whether to Focus on a Specific Chocolate
Depending on your budget, you may wish to create a hamper that focusses on specific types of chocolate or you can spend a bit more and open up endless possibilities.
Questions to ask yourself: Does the recipient most enjoy milk, white or plain chocolate? Is the recipient vegan or on any other restrictive diet?
Work Out What Ingredients Are Needed
The drop down at the top of my ingredients page can be used to find out which ingredients are required for each type of chocolate.
Decide Whether to Buy in Bulk
Some chocolate making ingredients, such as cocoa butter, can be very expensive when bought in small packets, but you can't really tuck a 1kg wholesale bag into a presentation hamper. When I created my hamper, I bought enormous bags of ingredients and measured out smaller quantities to go in the hamper. Use this trick if you plan to either make your own chocolate as well, or prepare more than one hamper.
Buy the Ingredients
Many ingredients can be found at your local supermarket; others have to be ordered in or collected from a specialist shop. My hamper ingredients page gives you examples of places to find each ingredient. If you use a supermarket, go for luxury ranges, as they tend to be the best presented.
Present Your Ingredients
Many ingredients, (e.g. honey, date nectar and coconut butter) tend to look great as they are but others may need a bit of sprucing. If you're measuring cocoa butter from a larger bag, you'll need something attractive to present it in. I use cellophane bags intended for packaging cake pops.
Curl ribbon by holding it between the finger and thumb of one hand, and running the blade of sharp scissors along its length.
Label your ingredients. Blank gift tags are ideal for this.
Don't Forget to Buy the Book
Not all the cocoa butter in the world is any use unless you know what to do with it. Complete the hamper with a paperback copy of my chocolate recipe book Chocolate Making Adventures.
+

Non-fiction by Rosen Trevithick

---
1 comment