31.03.2017 15:29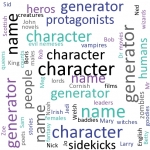 Name Generator
One of my favourite things about being an author is designing characters, especially choosing their name. I usually scour the net looking for suitable names. So I decided to write a name generator.
It suggests given names and family names. You can specify gender, birth year, popularity and background, as well as choosing initials and an option to only include alliterative names.
Because there are billions of different combinations, and because the generator uses lists of names from all over the web, I can't possibly test it as thoroughly as I'd like to, so if you find any odd results, let me know and I'll update my database.
+
---
3 comments