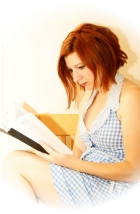 About Rosen Trevithick
Rosen was born in Cornwall. She studied psychology at Oxford before moving back to the West Country.
Readers have downloaded over a quarter of a million copies of Rosen's books. Several titles have broken into the Amazon charts, including a number 1 humorous fiction bestseller.
Praise for Rosen Trevithick
"Brilliant."
- The Independent
"My Granny Writes Erotica is a laugh a minute story with a few moments that steal your breath! I really enjoyed it and if it ever appears on Paperback I will definitely be giving copies to my family to read."
- Rebbie Reviews (Amazon Reviewer)
"The Other Daughter is a deeply moving and emotional read."
- D. Jones
"This is a stunning novella: cleverly-constructed, well-paced - and very informative. I read it in a single session and felt as if I'd been pulled through an emotional mangle."
- B J Burton (Author)
My Granny Writes Erotica Official Website
How Not to Self-Publish Official Website