21.03.2012 21:20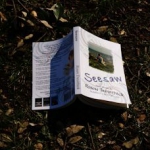 FeedARead - Thoughts so Far
A number of authors have asked me to let them know how I get on with FeedARead, the UK Arts Council funded self-publishing service. Well, so far it's going so well, that if I was offered the backing of a traditional publisher, I'd have to think very seriously about whether I'd be any better off than staying with print-on-demand.
Time frame
I uploaded my contents and cover images two weeks ago, and my proof copy arrived yesterday.
The longest part of the process was waiting for the printer to approve my files, and once that was done, the book arrived two working days later. It was an exciting surprise because I left the package on the mat for two hours, thinking it must be a DVD I'd ordered. You can imagine my delight when I unwrapped it and found it was my book!
You can only contact FeedARead by email, but they are always quick to reply to messages (within forty-eight hours) and I've found the staff very obliging and helpful. They also approved my files quickly (within twenty-four hours). I think it helped that I created my own PDF. You have the option of uploading a Word file and it doesn't even have to match the finished paper size, but then it takes longer because FeedARead have to create a PDF for you.
Costs
In terms of costs, I've paid £7.94 (£4.99 + 2.99 P&P) for my proof copy and £88 for premium distribution. You can publish through the FeedARead website for free, and people can buy copies of your book direct. However, I chose to invest in premium distribution because I want my paperback to be available on Amazon, where I will link it to my Kindle edition. Premium distribution will also allow bookshops to order copies, using the ISBN. However, whether or not a bookshop agrees to stock Seesaw remains to be seen.
Before using FeedARead, I hired proofreaders (Olivia and Peter) to check my manuscripts. This was not a set prerequisite for using FeedARead, but it is something that anybody planning to use a print on demand service should consider.
Edit (2/7/2012): I've just had an email from FeedARead stating: "As per agreement the printers charge to keep books in distribution and that is £19.99 annually after first year." This is something that I'd previously missed.
Royalties
As far as profit goes, I'm selling my book for £7.99 - this was the minimum that I could set, due to printing costs. For each copy sold through distribution, I'll receive £1.01. At first I thought that was rather low, but compared with other options, this is actually very generous. I have spoken to a traditionally published author who gets a lower percentage.
I will receive a much higher royalty (about £2.50 I believe) for books sold through FeedARead.
FeedARead boast that their royalties are higher than the norm, due to their arts council funding. I don't know how their royalties compare to other print-on-demand services, but I was put off other sites because they didn't seem geared towards UK customers. I'm having to jump through hoops to get paid for my Kindle books sold by Amazon US, and I don't want to end up in a similar mess with my paperback proceeds. I also like dealing in pounds sterling and not having to constantly consult the exchange rate.
Quality
My proof copy is a thing of beauty. It has a glossy cover and the pages are made of strong paper. The text is very clear and easy to read (I used Georgia 11pt, in case you're interested).
If I look very closely at the cover, I can see some white dashed lines across it, but I mean closely. I've never put anybody else's book that close to my eyes, ever!
The colours are much deeper than I expected, so my cover is a little darker than intended. Yesterday, this seemed like a disaster, but today it doesn't seem to bother me as much. If I ever decide to prepare a second edition, I will definitely attend to the cover brightness, but it doesn't seem worth delaying launch over - it's still gorgeous.
Catches
Are there any catches? Well, not a catch as such, but you need to be aware that if you want to update your book after it's gone to the printers, it will cost you £29 (or £39 if your title has entered bookseller distribution.) Also, keep in mind what I said about my cover printing several shades darker than it appeared on screen, when preparing images.
Also, at the moment, FeedARead pays royalties every six months, with no reporting in between. However, perhaps they will improve their reporting, as the service expands.
In summary
All in all, I'm very pleased with FeedARead. The speed at which my proof copy reached me, shows that customers will receive their copies as quickly as a traditionally published book; my royalties are as high, if not higher than they would be if I had a mainstream publisher; the quality of the book is superb. FeedARead are a great service for getting your work in print.
Next step: distribution. I will let you know how that goes, and how much success I have getting my work into bookshops.
FeedARead was recommended to me by Steve Robinson, author of In the Blood.
+

A collection by Rosen Trevithick

---
13 comments