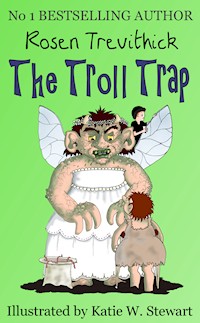 The Troll Trap
A Children's Novel
Book 1 in the Smelly Trolls series.
Rufus Sebbleford is the only boy in the world to have ever seen a real troll. So, when he finds out that trolls plan to attack Sludgeside School, he must stop them with the help of his good friend Polly.
Meanwhile, the Super-Troll-Knobbly-Foot family decide to turn their backs on smelly bottoms and eating children. They don't want to be bad any more. So, they paint themselves orange and try to live like humans. However, being enormous, horned and slimy makes it difficult to blend in.
Will Sludgeside ever be safe from the disgusting bad trolls and their horrifying leader, The Ogre of Uggle?
A stinky, squelchy adventure packed with secret dens, tree climbing, troll traps and lots and lots of revolting smells.
Reading age 8-10. Ideal to read aloud to younger children.
Praise
"Kids will laugh themselves silly."
- Rebecca Davies (The Independent)
"The best bit about the book for me, were the belly laughs it caused in my son …This is the first book where both of us have found it equally funny and for me the bonding experience I had with him as a result will never be forgotten. It was a wonderful experience."
- David Haynes (Author)
"I didn't want Miss to put the book down. It was so gripping from the beginning."
- Daisy (Schoolchild)
"You can tell that Ms Trevithick was a fan of Roald Dahl when she was growing up. The stinky trolls in this story are reminiscent of the giants in The BFG and, if possible, even more revolting. Her strong authorial voice and witty prose will appeal to parents as much as children; I caught myself chortling out loud at least every other page."
- Rebecca Davies (The Independent)
"I've been reading The Troll Trap during guided reading sessions with my year 5 children. Quite simply, they love it! The smiles on the children's faces, their sniggering and eagerness for the next session are an absolute joy."
- D. Spiteri (Year 5 Teacher)
"I loved it from the start. It's disgusting, funny and sweet mixed with intriguing mysteries."
- Penny (Schoolchild)
"I was reading this aloud to my 4 year old niece when waiting for hubby to finish with a doctor's appointment. She was totally enthralled! When we were ready to leave, the gentleman across from us had been listening and said, "Ah! Man! Do you have to go? I was really enjoying that!""
- DW
"Fun, lighthearted read and well written. Children who enjoy Roald Dahl and Horrible Histories may like this."
- Kew (Amazon Top 1000 Reviewer)
" And as a comparison of how good it is, if you've ever read Roald Dahl's BFG you will love this book."
- S. Hitchens