Interview With David Wailing About Auto 2
Back in 2013 (remember that?) David Wailing published a novel called Auto, which went on the win the SpaSpa award for best novel that year. I read the book myself and it's terrific, but ended with a cliffhanger that I've been dying to resolve ever since. Finally, Auto 2 is here. I've interviewed David, to find out more.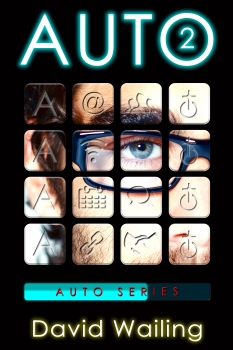 The Cover for Auto 2 by David Wailing
Auto 2 is a sequel. Tell us a little about the first book. Do they have to be read in order?
The first book is called Auto and looks at a future where digital technology is even more advanced and prevalent in our lives than it is now. Everyone has an 'auto', a sort of super-smart version of Siri or Cortana, that helps run your life so well it can actually mimic your behaviour online.
Auto 2 picks up where Auto leaves off, so it'll make more sense to read the novels in order. You can download the first book for free this week, which should help.
I believe the first Auto book ended on a cliff hanger. Will we have to wait long for a resolution, or will that happen early on in the book?
Not telling. [folds arms]
Are you worried that early readers might hang a banner saying '[character] Dies' on a motorway bridge, like spoil-sports did with Harry Potter?
This is a worry, I admit. I'm expecting to turn on the telly and see 'Wailing we hate you!' and 'We want Duallists 2!' spray-painted across Tower Bridge.
The first Auto book successfully strung together a series of short stories that weren't originally intended to be part of a greater novel. What difference did it make knowing that Auto 2 would be a full-length book, from the beginning?
It was a different experience this time around, knowing in advance that this would be a novel and not just connected stories. I had to do a lot more advance plotting - the 'heavy lifting' that requires authors to stare at the screen with a furrowed brow for what feels like months. But it also meant I had a clearer direction to follow.
Having said that, with the Auto Series, a lot of it has evolved naturally along the way rather than been planned. Originally, the stories Hotspot and Tag weren't going to be in this book and were written to be standalones. Then I realised that a) the two main characters in them would fit perfectly into the larger plot, and b) it saved me having to write two new sections of the book!
Am I right in thinking that's Greg on the cover? I love his glasses.
Technically that's Greg A, his auto. Here's a picture of Greg and Joanna before it all went wrong. Cute couple, weren't they?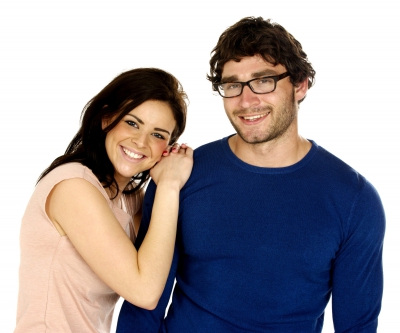 Joanna and Greg, from David Wailing's Auto series
Your Auto series is science fiction, yet the original Auto won the SpaSpa awards book for best novel, as voted for by readers. What is it about Auto that makes it appeal to people who don't usually read sci fi? Do you think it helps that your earlier thrillers aren't from the sci fi genre?
I think there's a few reasons why non-fans of science fiction enjoyed Auto. It's set in a recognisable London only a decade or so from now, rather than on an alien planet or in the far future, so those who prefer contemporary fiction can visualise it easily. Although most of the technology in the book doesn't exist yet, it's all based on things we already have or know about - smartphones, online profiles, Google Glass, self-driving cars. Alongside that are the modern concerns about our lives, such as the privacy of our data, government surveillance, cybercrime and terrorism, all of which are given a tiny futuristic twist but not so much that readers don't recognise them.
For some readers, it may have helped that my other books are not sci-fi. Although I often feel that die-hard genre fans avoid Auto because it's not sci-fi enough!
Is Auto 2 the last book in your Auto series? If not, can we expect another cliff hanger? How long will we have to wait for Auto 3?
There will be one more book, which will be the last. Obviously I can neither confirm nor deny the existence of another cliffhanger at the end of Auto 2, so stop staring at me like that.
There will be a bit of a wait for Auto 3, because the next book I write will be something else. I've been working on the Auto Series for nearly four years now, and feel like I need to cleanse my mental palate a little. So it's likely to be 2017 before the series is completed. I promise it'll be worth it!
If you could own one piece of fictional technology from your books, what would it be?
Well, obviously an actual auto is what I really want. Then it could run my life for me and let me get on with writing. Maybe it could even DO the writing. And all the book promo stuff. It would probably handle this interview much more smoothly than I have.
It's been four years since you started writing Auto books, which are set in 2022. To what extent has technology caught up?
Pretty much every week, I read the news and spot something disturbingly close to what was fictional when I first came up with it! There are some areas where modern technology is lacking, such as autos themselves, which remain disappointingly unavailable. Google, Microsoft, Apple, give your dumb digital assistants a kick up the arse! Other developments, such as self-driving cars and 5G, felt futuristic when I started but will definitely be with us in a few years. And the idea of autos existing after your death is already commonplace, with Facebook's option to memorialise a user's profile and several companies now offering 'deathswitch' services.
I'm writing a series of blog posts about this called The Coming of the Auto Age. So if anyone spots something in real life which looks like it belongs in Auto, let me know and I can include it!
Where to Buy the Auto Series
Auto 2 is now available for Kindle, priced at £1.99 - download
And remember, between 23rd and 27th November, the first Auto book is free - download
+
Be the first to comment