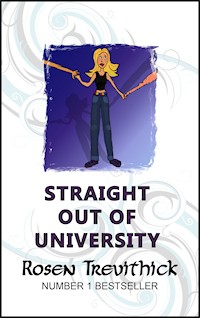 Straight Out of University
A Novel
Temporarily taken off sale.
Sophie's university life is lively, characterised by passionate, sapphic love affairs, liberal activism and boundary-pushing theatre.
Nine years later, she returns to her hometown in Cornwall, where girls are friends with girls, boys are friends with boys, and queer is an experience felt when you drink too much cider.
Sophie falls for John, a sensible, conservative male man with a fondness for cardigans, but can they overcome their cultural differences?
Contains strong language and scenes of a sexual nature.
Praise
"Well if you're looking for something just a little bit different, this is that kind of book. It was like dipping a lolly into a bag of pop rocks, I was never sure where the author would take it next."
- Cheryl (Amazon Top 500 Reviewer)
"Rosen has a flair for snappy dialogue, detailed description and fast plot movement. I'll definitely be reading more of her work."
- David Wailing (Author)
"All in all this is a marvelous story, told well and simply unputdownable."
- L. Taylor