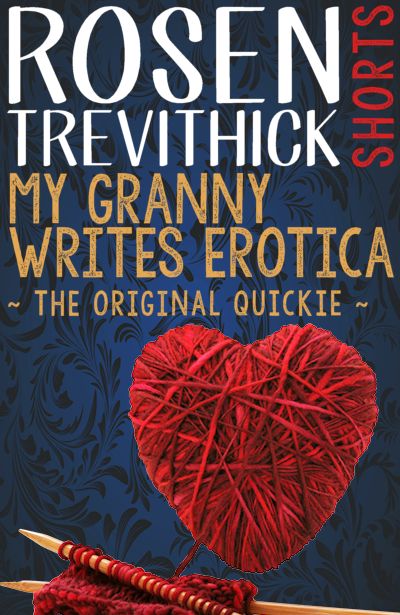 My Granny Writes Erotica (The Original Quickie)
"Where on God's green earth am I going to raise that sort of money? I'm a pensioner!" thought Betty. Then her eyes fell on her daughter's copy of Fifty Shades of Grey.
65-year-old Betty had given up on her life's ambition to write a bestselling novel. However, after walking in on her husband with a lady of the night, she finds herself single and with mounting debts. In need of a 'get rich quick' scheme, straight-laced Betty decides to try her hand at writing an erotic novel.
With little experience in matters of the libido, Betty finds herself ill-equipped to pursue her goal. So she sets out to acquire carnal knowledge without arousing the suspicions of her prudish friends and uptight family.
When her embittered mother-in-law finds a butt plug in the slow cooker, it seems like the game is up. Will Betty be able to prevent bankruptcy with her salacious prose before her source of income is exposed?
Now with a sequel: My Granny Writes Erotica 2
Praise
"It's hilarious to the point that I had to put the book down because I couldn't see the screen for my tears and this happened a few times. The incident in the kitchen with the My Ickle Pony Tail had me curled up so I didn't wet myself."
- K. Farrimond (Amazon Reviewer)
"You'll probably never look at a slowcooker in quite the same way again after reading this....or your child's My Little Pony."
- Mrs. M. A. Tolcher (Amazon Reviewer)
"My Granny Writes Erotica is a laugh a minute story with a few moments that steal your breath! I really enjoyed it and if it ever appears on Paperback I will definitely be giving copies to my family to read."
- Rebbie Reviews (Amazon Reviewer)
"A very well written, smashing little read which is smuttily funny."
- Elaine G (Amazon Top 100 Reviewer)
"As soon as I saw this book was available I had to have it ... I think I read most of this with a smile on my face."
- J. Stacey (Amazon Top 1000 Reviewer)
"This first thing I learned was that this is not a book to read on the bus, mainly because of all the times I caught myself laughing like an idiot every five minutes. The second thing I learned was just how great this book is."
- M. Cox (Amazon Reviewer)
"Rosen does humour very well, but this latest title from her is the best yet. It even had me laughing out loud, which is rare for me!"
- Michael Brookes (Author)
"... a marvellously entertaining read and I recommend it."
- Damaskcat (Amazon Top 50 Reviewer)
"Read this book during my lunch break laughed so much I spilt my lunch on my top."
- D. Cryle (Amazon Reviewer)