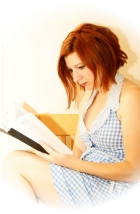 About Rosen Trevithick
Rosen was born in Cornwall. She studied psychology at Oxford before moving back to the West Country.
Readers have downloaded over a quarter of a million copies of Rosen's books. Several titles have broken into the Amazon charts, including a number 1 humorous fiction bestseller.
Praise for Rosen Trevithick
"Brilliant."
- The Independent
"I didn't want Miss to put the book down. It was so gripping from the beginning."
- Daisy (Schoolchild)
"It's hilarious to the point that I had to put the book down because I couldn't see the screen for my tears and this happened a few times. The incident in the kitchen with the My Ickle Pony Tail had me curled up so I didn't wet myself."
- K. Farrimond (Amazon Reviewer)
"Rosen has a flair for snappy dialogue, detailed description and fast plot movement. I'll definitely be reading more of her work."
- David Wailing (Author)
My Granny Writes Erotica Official Website
How Not to Self-Publish Official Website