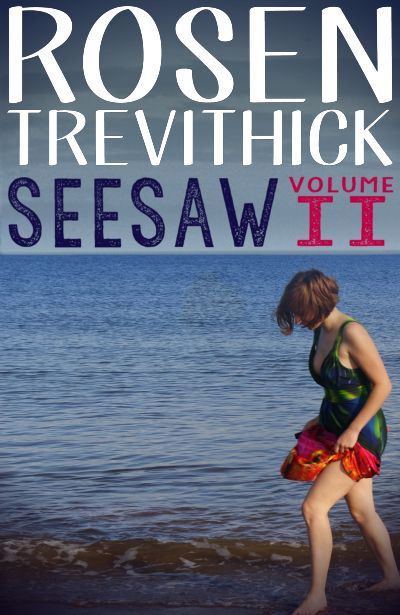 Seesaw - Volume II
A Collection
Will writing erotica save a grandmother from financial ruin? Where is Emma's baby and why hasn't he been returned to her? And will a boy be able to stop his little sister from being made into a gourmet girl burger?
Following Rosen's acclaimed Seesaw collection, Volume II continues alternating between outrageous comedy and more sinister, psychological tales. At the core are two very different novellas – My Granny Writes Erotica and The Ice Marathon – alongside nine brand new short stories.
The preface will continue Rosen's own story, inviting you to share in her rocky but exciting journey from long-term incapacity to professional author.
Also available: Seesaw - Volume I.

Contents:
Preface
1. A Stormy Afternoon in Falmouth Harbour
2. All Grown Up
3. The Ice Marathon
4. All Washed Up
5. The Other Father (Original)
6. The Other Father (Gourmet Girl Burger)
7. All Knocked Up
8. What Crazy Looks Like
9. All Loved Up
10. My Granny Writes Erotica
11. All Choked Up